Back to all news
A new brand for Killorglin! Community invited to engage in the branding process
The Socio-Economic Plan for Killorglin which was launched late last year proposes a number of key development actions through which the town's assets and resources can be aligned. The plan was shaped by the community and aims to strive to build a better community, where people want to live, visit, work and enjoy a good quality of life, now and into the future.
Currently, the Killorglin Chamber Alliance is working collaboratively with local community groups, clubs, businesses and local government in order to implement these plans. One of our first steps has been to look at the creation and implementation of the Killorglin brand tools, which consists of a logo, tagline, brand identity and a new website called killorglin.ie.
Back in 2018, the Chamber Alliance was delighted to receive funding from Kerry County Council for this branding work. Since then we have set up a project team who have engaged with a design team in driving this project forward.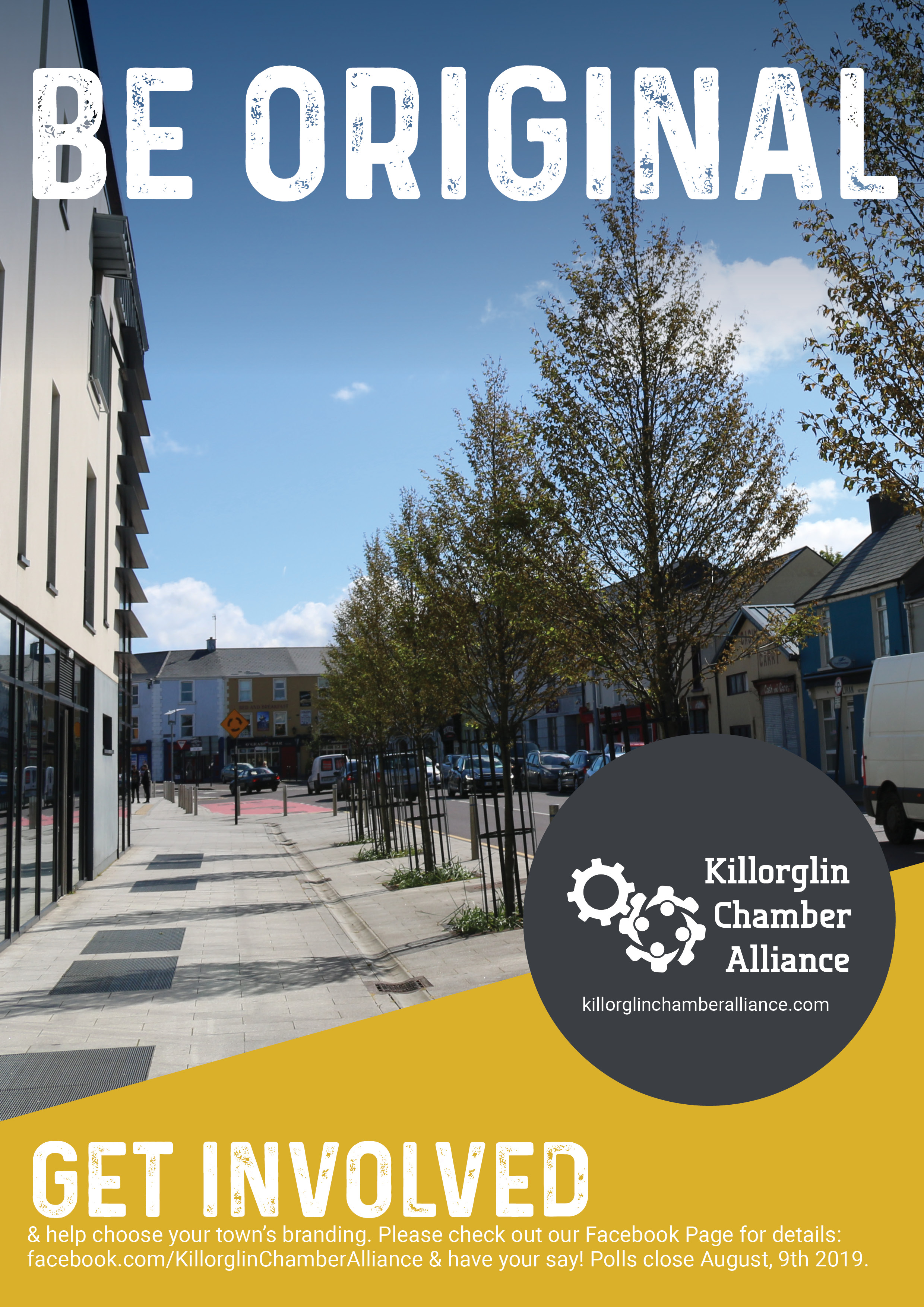 Stephen O'Sullivan, Chairman of the Killorglin Chamber Alliance said 'The Killorglin brand tools will really freshen up the town's image. A huge amount of hard work and long hours have been put in over the past number of months by Paul Carney who is leading the project along with other chamber committee members. They all have given their time for free. I would like to thank all of them for their continued support, enthusiasm, dedication and passion in helping delivery this major project for the town.
One of our commitments was to have the local community and businesses have their say, so now that the design concepts have entered the final stages we would like to reach out to them in order to help us pick their preferred logo design and tagline that will represent our town going forward. The public vote will be conducted on the Killorglin Chamber Alliance Facebook page from July 22 at 8pm to August 9th at 6pm.
Here are your options:
Option 1
Option 2
To vote please log on here: facebook.com/KillorglinChamberAlliance.
'Killorglin.ie will be used to help promote the town's assets and effectively communicate the socio-economic plan updates, what's on, supports available and so on. In time we're hoping it will become a great community communication hub. We aim to launch the town's branding and website later in 2019', concluded Stephen.
For updates please search for Killorglin Chamber Alliance on Facebook or Twitter.